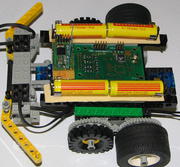 Nashua Robot Builders
NRB is an informal club of people who are interested in any or all aspects of robotics, and who enjoy sharing and learning from each other.
We welcome people (and robots) of all ages.
We're Back!
January 2015 - The Nashua Robot Builders club is rebooting.
If you're located in the Nashua, NH area (including northern MA) and you
build robots as a hobby
work with robots professionally
are a student learning about robots
basically, if you have any interest in robots whatsoever
then please join in.
Meetings
The inaugural meeting was held on Sunday February 15, 2015 at RoboTech Center, 3i Taggart Drive, Nashua NH.
The next meeting will be Sunday March 15, 2015, same time, same place.
See the Google Groups forum below for directions, notes on the last meeting, plans for the next one, etc.
For more info

groups.google.com/forum/#!forum/nashuarobotbuilders Google Groups forum for planning and discussion related to the reconstituted group. Sign up and join the discussion or just browse the archive to see what's happening.


eepurl.com/bcphjf Announcement mailing list, powered by MailChimp. Sign up here if you want to receive meeting announcements, etc.

Wiki
We're starting a wiki for club participants. It's at www.nashuarobotbuilders.org/wikid/pmwiki/pmwiki.php

Old site

For historical reasons the old (2009) website is here.

---
Last modified $Date: 2015/03/15 20:13:53 $ UTC.